Jared Kushner to kick off the two-day workshop with a speech on the plan to create a million new jobs in 10 years
Palestinians reject the initiative as it does not address the key political aspects of a peace deal
MANAMA: The Trump administration convened an international conference on Tuesday to promote its ambitious, but heavily criticized, $50 billion economic support plan for the Palestinians.
President Donald Trump's son-in-law and senior adviser, Jared Kushner, was to kick off the two-day workshop in Bahrain with a speech on the plan to create a million new jobs in 10 years.
The participants do not include official Israeli or Palestinian delegations, with Palestinian leaders rejecting the plan because it does not address the core issues of the conflict.
Saudi Arabia, which will be represented by its foreign minister, said it remained committed to a Palestinain state based on the border that existed before the 1967 Arab-Israeli war.
See how the first day unfolded below *All times local (GMT +2)*
******
20:05: More from Kushner's speech earlier. When he moved on to outline the economic plan that was published Saturday, he addressed the absence of Palestinian business leaders at the Bahrain conference.
"A lot of the leading Palestinian business people who we speak to wanted to be here tonight. They were told by the (Palestinian) authority not to come and because they rely on them for their livelihood it's not a free market where they can make those distinctions."
20:00: Mohamed Alabbar, founder and chairman of the UAE's Emaar Properties says the Palestinian cause is one close to the heart of all Arabs.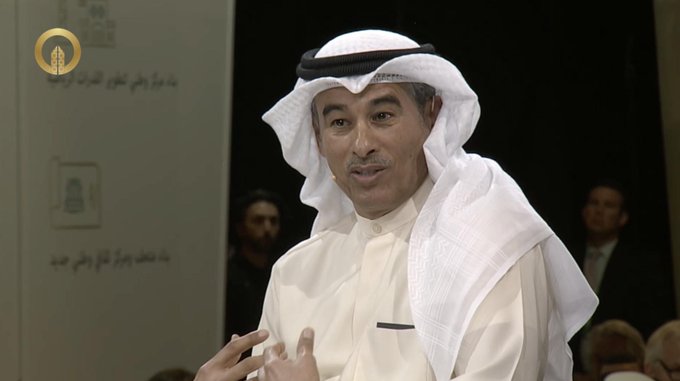 #LIVE: #UAE's Emaar Properties chairman and founder – Every Arab has the #Palestinian cause close to our hearts, we are all Palestinian at heart because the Palestinian issue is our issue #PeaceToProsperity


19:45: Some more details from Jared Kushner's speech. He painted a picture of what could be in Gaza and the West Bank:
"Imagine a new reality in the Middle East. Imagine a bustling commercial and tourist center in Gaza and the West Bank where international businesses come together and thrive. Imagine the West Bank as a blossoming economy, full of entrepreneurs, engineers, scientists and business leaders. Imagine people and goods flowing quickly and securely throughout the region as economics become more integrated and people more prosperous.
"This isn't a stretch, this is actually the historical legacy of the Middle East, specifically of Gaza and the West Bank."
19:45: The first panel – The Time is Now: Building a Coalition for Middle East Prosperity – gets underway, hosted by Nik Gowing.
19:40: Kushner says Palestinian self-sufficiency is the key to helping them reach prosperity, and will be vital in helping create a better business environment climate in the Middle East as a whole…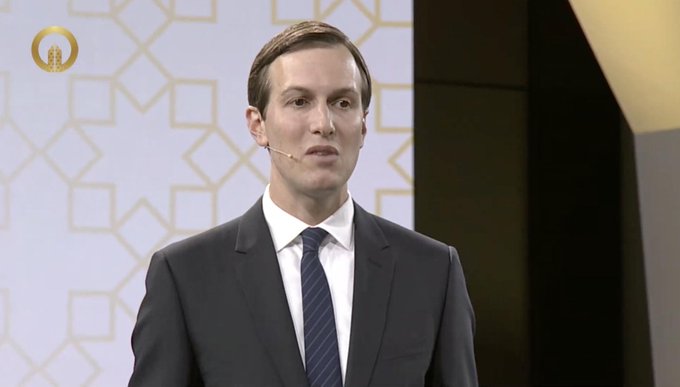 #LIVE: Jared Kushner at the #PeacetoProsperity conference in #Bahrain – We need to create a better business environment in the #MiddleEast, and part of that is helping #Palestinians to become self-sufficient


19:30: Kushner is now summarizing what the "Opportunity of the Century" economic plan actually entails for the conference…
19:25: Kushner tells the conference that the US wants to see peace, security and prosperity for Palestinians, Israelis and all people around the world and that the US has not "given up" on the Palestinian people.
#LIVE: Jared Kushner has taken the stage at the '#PeacetoProsperity Workshop', thanks #Bahrain's King Hamad for hosting the conference.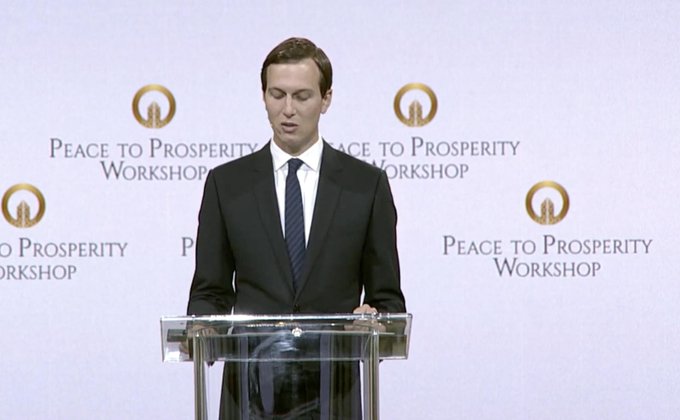 19:15: We are under way, and Jared Kushner is speaking…
18:45: We are still waiting for Jared Kushner's address, and we are being treated to some dramatic music and this holding screen on the live stream…stay tuned, we will have some action shortly…
18:20: Dignitaries for the conference are still arriving and registering and enjoying a welcome reception, so let's take a look at what we can expect on tonight and tomorrow's agenda…
– Donald Trump senior advisor Jared Kushner will deliver the opening remarks, with a panel discussion on what the US administration's plans for "Middle East prosperity" will entail. The panel will be moderated by Nik Gowing, a UK-based professor, author & broadcaster and will include Mohamed Alabbar, founder and chairman of the UAE's Emaar Properties as well as Stephen Schwarzman, chairman, CEO and co-founder of Blackstone.
– Everyone will then enjoy an opening night dinner.
– Tomorrow, the highlights will be a panel entitled "Unleashing Economic Potential" — looking at how trade and job creation can help Gaza, the West Bank and the surrounding region — which will include Mohammed Al-Sheikh, Minister of State, member of Council of Ministers and member of Council of Economic and Development Affairs in Saudi Arabia.
– Kushner will hold a conversation with former UK prime minister Tony Blair, while just before lunch Arab News' editor-in-chief Faisal Abbas moderates a panel on how to empower the Palestinian people to reach their full potential.